Tabby is a beautiful buxom blonde who really enjoys wearing classic lingerie. She looks gorgeous in this beautiful lace bra that is barely big enough to cover her voluptuous boobs. The classic matching lace panties and garter belt complete the look, with her baby blue stockings and white high-heel pumps making the most of her shapely legs.
Join now to see all of Tabby's pictures.

Galleries - Zip Files - Slideshows
Join Now
to see ALL of Rebecca's pictures...
Hot Pink & Baby Blue


70 pictures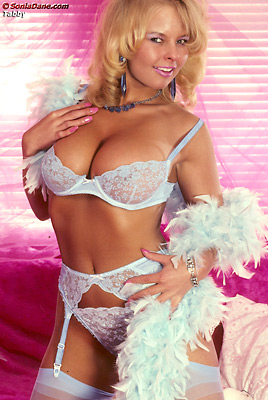 © Copyright 1997-2019 SoniaDane.com and all images of Sonia Dane, are the exclusive property of Sonia Dane (dba Sonia Dane Enterprises & Phantom Technology). These, and the images of all other models appearing on this site, are copyrighted and protected by the Digital Millennium Copyright Act.